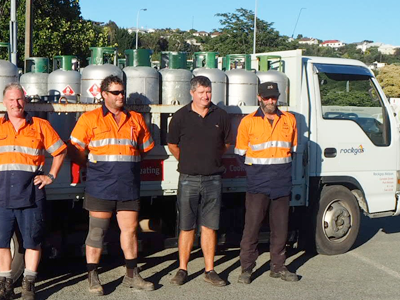 When you join with us, you will get friendly, reliable and trusted service.
As you may have seen, the Climate Change Commission has released a draft plan recommending how to cut New Zealand's emissions by 2050. One recommendation is to phase out gas by 2050, with no new bottled LPG to be installed after 2025. The draft plan is now open for consultation until 14 March 2021.
Rockgas believes there are multiple ways to achieve these emission goals
We're committed to helping New Zealand achieve its target of net zero emissions by 2050.
Globally, there are supplies of BioLPG already available. The next step is to develop this option in New Zealand either through producing locally or importing it.
It's important to note:

LPG will continue to be available and delivered to your door and this won't change
LPG is still a viable option in any new build and your Rockgas service will continue, while the gas industry works with government to transition to low carbon gas
LPG will continue to be an important energy source and that low carbon gas alternatives, including BioLPG, will be part of New Zealand's low carbon future
In the future, customers will be able to connect to BioLPG and switch their appliances to this renewable fuel
We're confident this isn't the end of the good old kiwi BBQ!
We're here for you
Rockgas is owned by Firstgas Group (which encompasses Rockgas, Firstgas, Flexgas and Gas Services NZ).
Rockgas has been delivering LPG to Kiwis for over 80 years and we're New Zealand's largest LPG retailer, serving over 100,000 customers from a network of 34 outlets throughout the country.
Firstgas, our sister company, has been around since 1972 quietly maintaining a 7000 km network of pipeline assets, including the Maui pipeline, which are critical to delivering gas safely and reliably to around 400,000 industrial, business and residential customers, everyday.
Firstgas Group is actively working on gas alternatives and this work shows that gases such as hydrogen, biogas and BioLPG are viable options to meet customer needs in the future.
Have your say
If you would like to make a submission you can go to https://haveyoursay.climatecommission.govt.nz
---
Rockgas Nelson and Marlborough is your local LPG supplier.
Rockgas Nelson and Marlborough are one hundred percent locally owned and operated – supplying Rockgas LPG to an area from Murchison to Ward and all areas in between. So no matter where you live in the Nelson/Marlborough region Rockgas has got you covered. We pride ourselves on providing reliable service to all of our customers, both domestic and commercial.
LPG can be ordered using the Rockgas LPG App. Download the app for iOS or Android.
Our opening hours are Monday to Friday 8.30am – 4.30pm. Please give us a call today on (03) 546 6336 Nelson or (03) 577 9717 Marlborough, so we can help you get connected.
Rockgas customers that have run out of LPG, anyone with new customer inquiries or with an urgent matter should speak with reception staff.