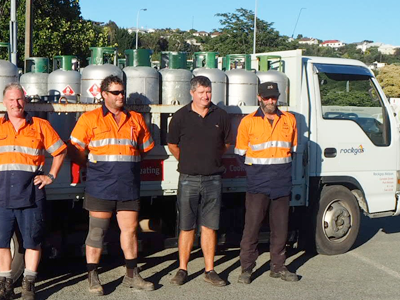 When you join with us, you will get friendly, reliable and trusted service.
Massive apologies to our Marlborough customers. We are currently experiencing issues with our Marlborough phone number. Please call 03 546 6336 and we will attend to your call. Sorry for any inconvenience, we are working to get this issue resolved ASAP.
Rockgas Nelson and Marlborough is your local gas supplier.
We are an essential service and we will continue to deliver 45kg LPG cylinders to our customers.
Our office has relocated to 177 Haven Road Nelson. Same wonderful staff, same great service, just a new location.
Due to the current Covid-19 lockdown our office staff are currently working from home. We hope this won't cause any disruption, but please be patient as we do our best in this situation.
For ALL delivery orders please leave a message on our answer service 03 546 6336 (Nelson) or 03 577 9717 (Marlborough), email: sales@rockgasnelson.co.nz or use the Rockgas APP. Only people with new customer inquiries or anything urgent should speak with our staff.
For LPG EMERGENCIES please dial 0800 427 345
Rockgas Nelson and Marlborough are one hundred percent locally owned and operated – supplying Rockgas LPG to an area from Murchison to Ward and all areas in between. So no matter where you live in the Nelson/Marlborough region Rockgas has got you covered. We pride ourselves on providing reliable service to all of our customers, both domestic and commercial.
LPG can be ordered using the Rockgas LPG App. Download the app for iOS or Android.
Our opening hours are Monday to Friday 8.30am – 4.30pm. Please give us a call today on (03) 546 6336 Nelson or (03) 577 9717 Marlborough, so we can help you get connected.