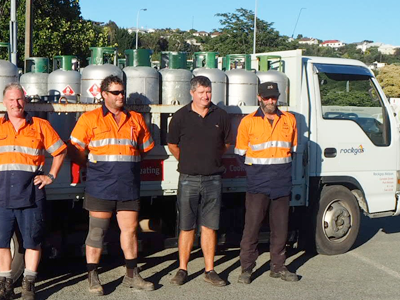 When you join with us, you will get friendly, reliable and trusted service.
Industrial Gas (IDG) cylinder rental daily charge will be increasing to $0.52 per day per cylinder. Effective 15th October 2019.
LPG cylinder rental remains unchanged at $55 per cylinder per year.
Download the Rockgas LPG App to place your cylinder refill order straight from your smartphone (iPhone & Android)
Rockgas Nelson and Marlborough is your local gas supplier.
Rockgas Nelson and Marlborough are one hundred percent locally owned and operated – supplying Rockgas LPG to an area from Murchison to Ward and all areas in between. So no matter where you live in the Nelson/Marlborough region Rockgas has got you covered. We pride ourselves on providing reliable service to all of our customers, both domestic and commercial.
LPG can be ordered using the Rockgas LPG App. Download the app for iOS or Android.
Our opening hours are Monday to Friday 8.30am – 4.30pm. Please give us a call today on (03) 546 6336 Nelson or (03) 577 9717 Marlborough, so we can help you get connected.
Latest News
First Gas announced today that its sister company, Gas Services New Zealand (GSNZ), has completed the purchase of…
LPG for your business – Commercial and industrial reticulated LPG customers The transition of Rockgas to Gas Services…